INGREDIENTS
1 chicken breast cooked and shredded
12 corn tortillas
1 cup shredded queso Oaxaca/asadero
1/2 cup Mexican crema
Toothpicks
¼ cup Canola oil for Frying
1 jar TATEMADA Salsa tomatillo
Salt to taste
Buy our products now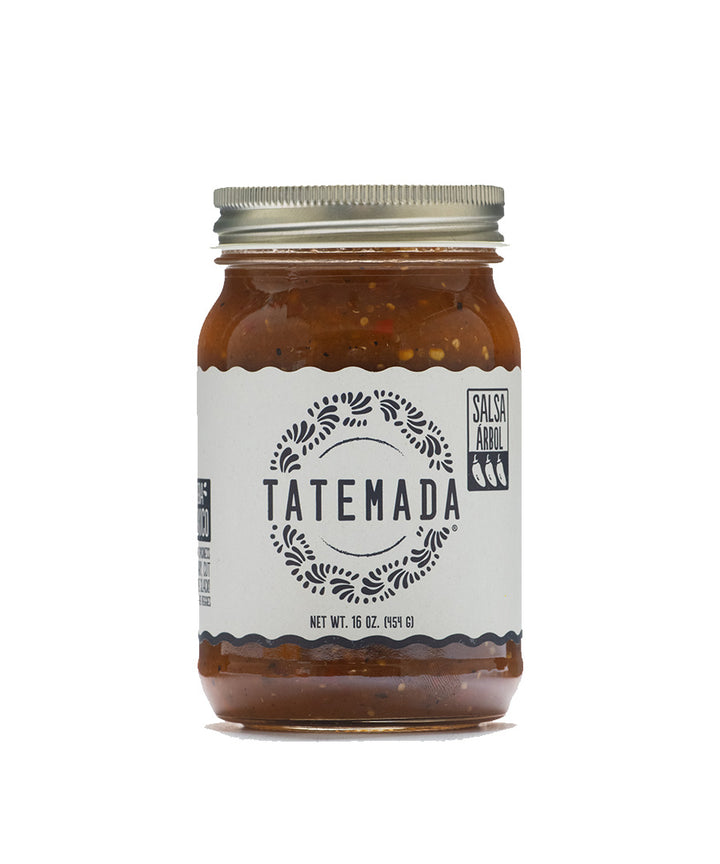 Árbol Salsa
Price: $32.00 USD
BUY NOW
Tomatillo Enchiladas Casserole
STEPS:
1

Heat the canola oil in a medium skillet over medium-high heat until hot, but not smoking. Cook the tortillas quickly, one at a time, submerging completely in oil, until soft and pliable, but not crisp, about 5 seconds each; drain on paper towel.

2

To form flautas, add the chicken to the previously heated tortillas, roll tightly to enclose filling. Secure seam side of tortillas with toothpick. Repeat with remaining tortillas and chicken to make 12 flautas.

3

Reheat oil in skillet. Add prepared flautas to skillet seam side down, adding only as many as fit in pan without touching. Cook, flipping occasionally, until browned and crispy on all sides; about 4 minutes.

4

Pat dry the excess oil with a paper towel and remove the toothpicks.

5

In a bowl add tatemada tomatillo salsa with the Mexican crema, mix well.

6

Pour a thin layer of the mixed tomatillo salsa and crema into bottom of a medium casserole. Arrange the flautas on the casserole pour the rest of the salsas in the casserole and sprinkle with shredded cheese.

7

Preheat the oven to 375 degrees f. cover the casserole with foil loosely an put on a baking sheet and bake until heated through and bubbly on top, about 30-40 minutes. The baking sheet will catch any drips of sauce or cheese. Remove foil cover in the last five minutes to browning cheese.