INGREDIENTS
Noodles
Walnut Sauce:
6 oz bean thread noodles (dried)
2 tbsp olive oil
2 tbsp minced garlic
½ onion thinly sliced
½ cup thinly sliced carrots
2 cups cabbage thinly sliced
1 red bell pepper, thinly sliced into strips
½ tsp ground white pepper
2 eggs whisked
2 green onions chopped
Sauce:
2 tbsp low-sodium soy sauce
3 tbsp oyster sauce
1 tbsp fish sauce
2 tbsp sugar
¼ cup tatemada Árbol salsa
2 tbsp water
---
Coconut Shrimp
Walnut Sauce:
1/3 Cup all-purpose flour
½ tsp ground black pepper
½ tsp Salt
2 large eggs, beaten
¾ cup panko breadcrumbs
1 cup shredded coconut
1 lb. large raw shrimp, peeled and deveined with tails attached
Olive oil
Tatemada arbol salsa

Dipping Sauce:

½ cup orange marmalade
1/3 cup Tatemada Arbol Salsa
Pinch of salt.
Buy our products now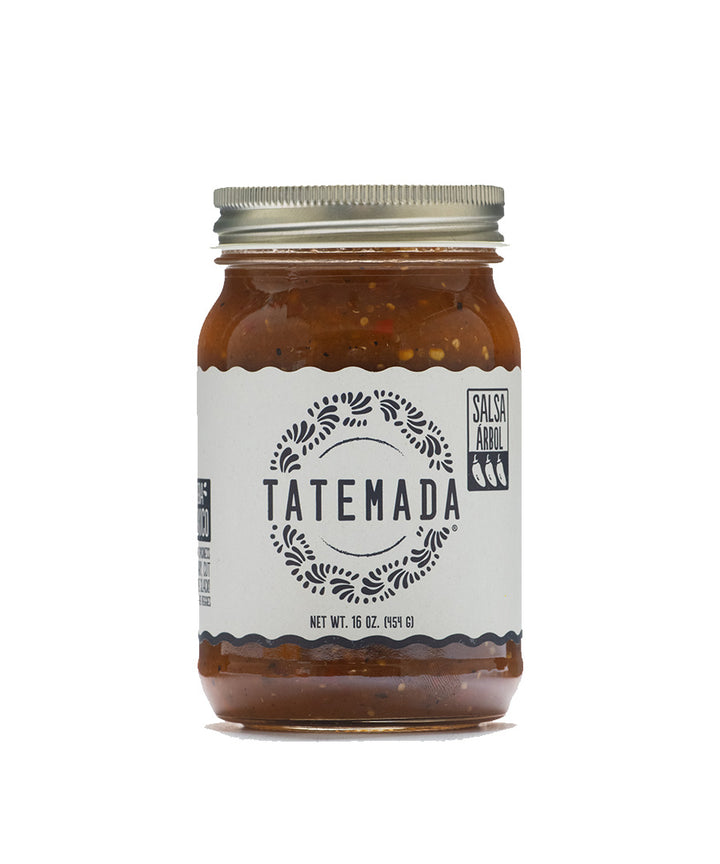 Árbol Salsa
Price: $32.00 USD
BUY NOW
Árbol Thai bean thread noodles with coconut shrimp
STEPS:
Noodles
1

Soak the noodles in room temperature water according to package instructions. Then drain the noodles using a colander. Cut them into shorter pieces if desired, and coat with oil to prevent from sticking.

2

While the noodles are soaking, mix all sauce ingredients. Set aside.

3

Add 1 tbsp oil to the skillet. Add garlic, and sauté for about 1 minute until fragrant. Add onions, cabbage, bell pepper, carrots and white pepper to the skillet and stir fry for 2-3 minutes.

4

Move the vegetables to one side of the pan and add the beaten eggs to the empty space in the pan. Scramble the eggs until the eggs are cooked through.

5

Add noodles, and the sauce. Stir fry until the noodles are soft and everything is coated with the sauce.
Coconut Shrimp
1

In a small bowl, add the marmalade, salsa arbol, stir to combine, taste and adjust if desired.

2

In 3 medium bowls. Combine flour, salt and pepper in one. Beat the eggs in the second bowl and combine panko and coconut in the third.

3

Dip the shrimp into the flour, then the eggs, and the dredge the shrimp into the coconut mixture, pressing gently to adhere. Set the coated shrimp aside on a plate as you coat the remaining shrimp.

4

Add enough oil to cover the bottom of a large skillet over medium heat. Fry the coconut shrimp in batches (6-7 shrimp at a time), flip after 2 minutes and fry the other side for 2 minutes or until golden brown.

5

Place the finished coconut shrimp on a plate lined with paper towels as you fry the rest. Serve with dip sauce.